If you have read my blog for very long,
you know that I have a love for all things and people southern.
Especially Elvis.
And certainly Billy Graham.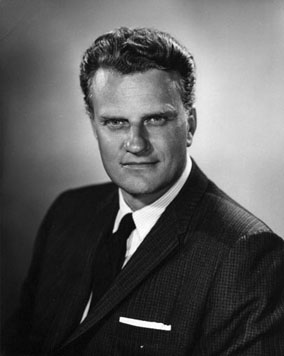 The first week in November, Billy Graham begins
what he is calling his final crusade.
"My Hope"
is all about sharing Christ with people all across America and Canada.
Instead of Billy Graham doing all the work, regular church members will be involved!
My Hope gives average Christians a way to reach friends for Jesus.
Through inviting them into homes or meeting in places
where the My Hope video can be shown, Billy Graham's message can be
shared with people who need a little hope and a friend in Jesus.
(This message will also be broadcast on national television
during the first week in November.)
Billy Graham will be 95 years old that first week in November.
He has preached for nearly 70 of those 95 years and it is estimated
that his message has been heard by nearly 2.2 BILLION people.
Wow!
It is my prayer that this message will be heard
by the 316,000,000 living in the USA
during the first week of November. With our help,
Mr. Graham is obviously capable!
I hope that you will join me in supporting "My Hope" with
your enthusiasm, participation and prayers.
Our nation desperately needs hope and as Christians, we know the source.
Check out the website.
Pray for the initiative.
May God Bless America.