I decided that this year, I would start early and be ready for Easter dinner.
In years past, this event has been squeezed in between Spring Break,
church events, special music at church and finishing smocked dresses!
Many a night before Easter, I was up at 1:00 or 2:00 AM hemming
that Easter dress! (Sadly, there are no more smocked dresses for Easter!
They now come from the junior department at Dillard's.)
I did start with the tablescape, though. I made new placemats.
That satisfied the need to be sitting at the sewing machine before the big day.
Using napkins that I already had, I added the work horse of
all tablescapes, Mikasa's Italian Countryside and salad plates
from... of all places... K Mart. They are part of a Jaclyn Smith
collection that I found a while back and I love their color.
One of my favorite decorations for Easter has always been the bunny
that Mama found ten years ago at a gift shop in Franklin, Tennessee.
This year I found a few additional pieces of the same collection on ebay.
Too cute...
I also used white tulips in my dining room.
For something different, this year I used place cards.
Since all of us know who we are and where we sit,
I printed Matthew 28:6 on them:
"He is not here, He is risen, just as he said."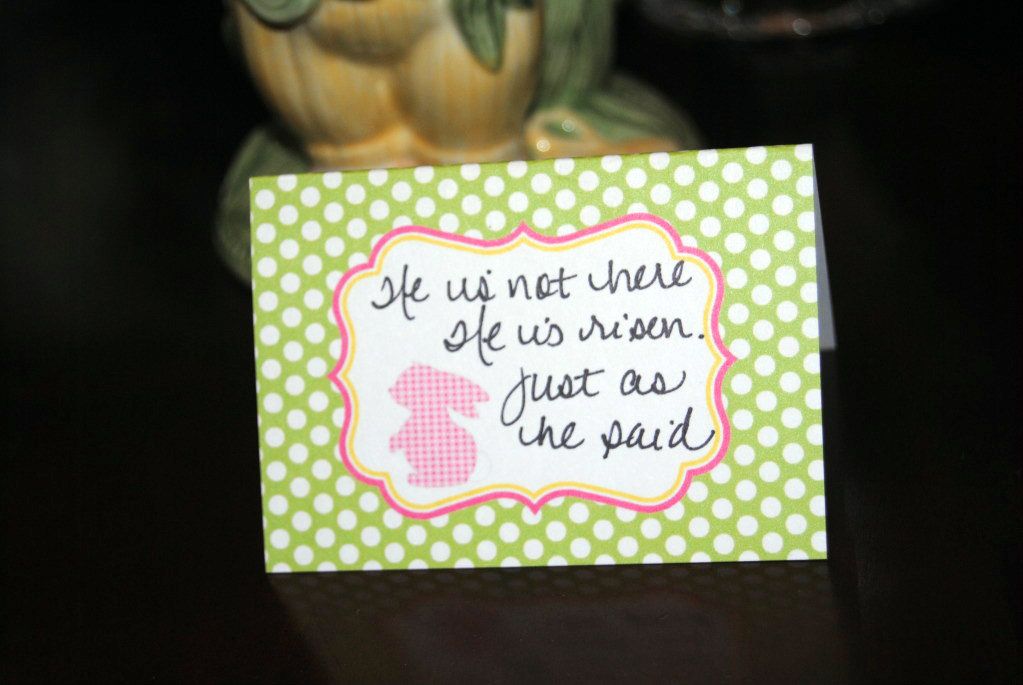 I also found matching Easter cupcake picks
that looked great on Julia's cupcakes.
We had a great day and the icing on the (cup)cake was
that the Easter Bunny brought us all a trip to....
the beach!
I'm linking to
Between Naps on the Porch
.