quickly.
Because Julia is leaving elementary school behind
and because I wanted one more shot
at little girl cutesie, we had a "School's Out, Pool's In" Party
after the last day of school.
We decorated flip flops...
Thank goodness Mama came to help. She brought her cousin, Harriett -
which was super as she is very crafty. The flip flops were purchased
at Dollar Tree and decorated with ribbon and doo dads from Hobby Lobby.
Each girl took her flip flops home in a sand pail,
also from Dollar Tree, that had been monogrammed using a Cricut cartridge called
Plantin Schoolbook and vinyl. I've had lots of fun using vinyl on plastic. It is an easy, cute way to dress up Dollar Tree
and Wal Mart finds.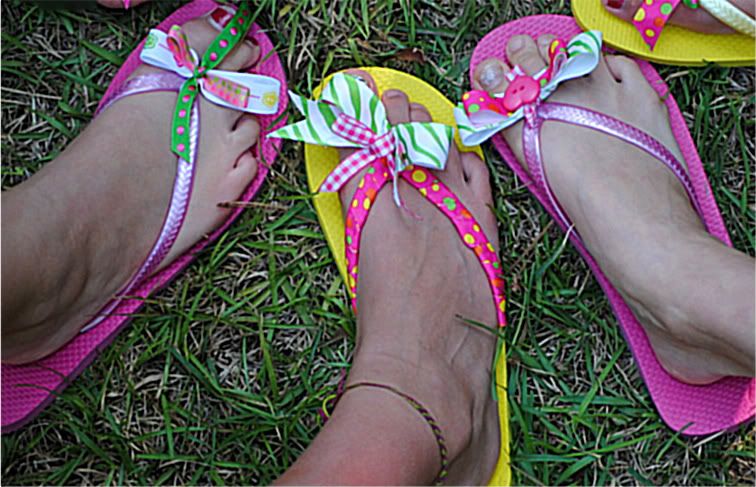 Some little feet, proudly showcasing their new beach wear.
For supper, (The girls wanted to know if I really meant dinner...) we had
lemonade, fruit, chips and little pizzas. The recipe for the little pizzas came from
a wonderful blog, "A Little Loveliness". Here is the recipe.
1 package hamburger buns
Parmesan cheese

Meat Sauce:
1 pound ground beef
1 (6-ounce) can tomato paste
1/2 cup ketchup
1 1/2 teaspoons oregano
3/4 teaspoons garlic salt

Cheese Sauce:
2 tablespoons flour
1/2 cup instant dry milk
3/4 cup water
1 cup Velveeta cheese
For meat sauce, brown meat, drain and mix with above ingredients. Meanwhile, for cheese sauce, mix flour and instant dry milk. Gradually add 3/4 cup water, then stir in 1 cup Velveeta cheese cut into cubes. Stir until Velveeta melts and cheese sauce thickens. Place open hamburger buns on a cookie sheet. Spoon cheese sauce on, then meat sauce. Sprinkle with Parmesan cheese. Bake at 350 degrees 8 to 10 minutes. (Makes approximately 10 to 15).